Author: Islamic Finance Advisory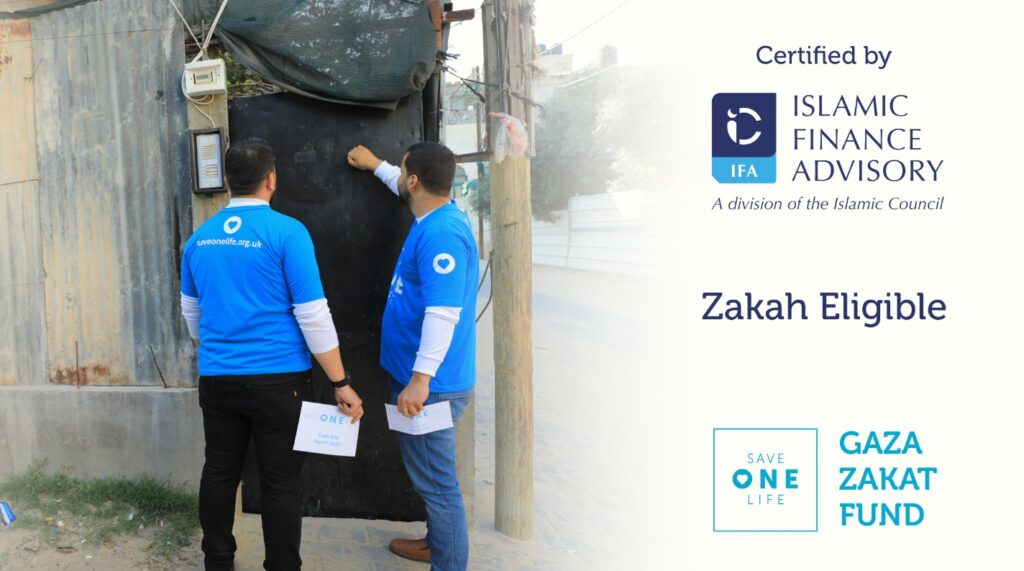 All praise belongs to Allah and may Allah's peace and blessings be upon His messenger, his family, companions and followers until the last day.
It's our pleasure to announce that The Islamic Finance Advisory (IFA), a department of the Islamic Council, have certified 'The Gaza Zakat Fund' delivered by 'Save One Life (Charity Number: 1187075)' as Zakah-compliant, based on their conformance to the general Zakah-related principles of the Shari'ah and the mandates of the widely accepted Islamic Zakah Standards released by the IFA.
As you may be aware the IFA's scholarly board had published its Zakah Policy in March 2022. The policy was welcomed across the UK Islamic charity sector, setting a precedence as being encompassing and accommodating of modern Islamic legal practice.
The IFA was extremely appreciative of its inaugural client 'Save One Life' requesting a review and certification of their project 'The Gaza Zakat Fund'. The assessment began in October 2022, and with great effort and collaboration between the IFA and Save One Life, certification was achieved and granted in January 2023.
We welcome all charities to connect with the IFA and book a consultation with one of our Shari'ah advisers:
A team of experienced scholars and qualified professionals at hand to provide comprehensive advisory services on all matters related to Islamic Finance, impacting personal finance, businesses, charities, and fintech & DeFi in an ethical and transformative manner.
Our expertise spans across various domains including Shariah compliance, IF product design & development, IF liquidity management, IF financial risk management strategies, Zakah, Awqaaf (Endowments) and financial dispute resolutions & adjudications.
Our services include:
Islamic Finance Advisory
Islamic Transactions and Finance Training & Development
Islamic Transactions and Finance Curriculum Services
Business and Investment Shariah Compliancy Review
Business and Investment Dispute Adjudication
Shariah Compliancy Review & Auditing
Shari'ah Compliance Certification
Zakah Advisory (Calculation & Audit – Individual, Business, Pensions & Investments)
Zakah Compliance Certifications
Islamic Inheritance and Probate Advisory
Product Structuring and Research & Development