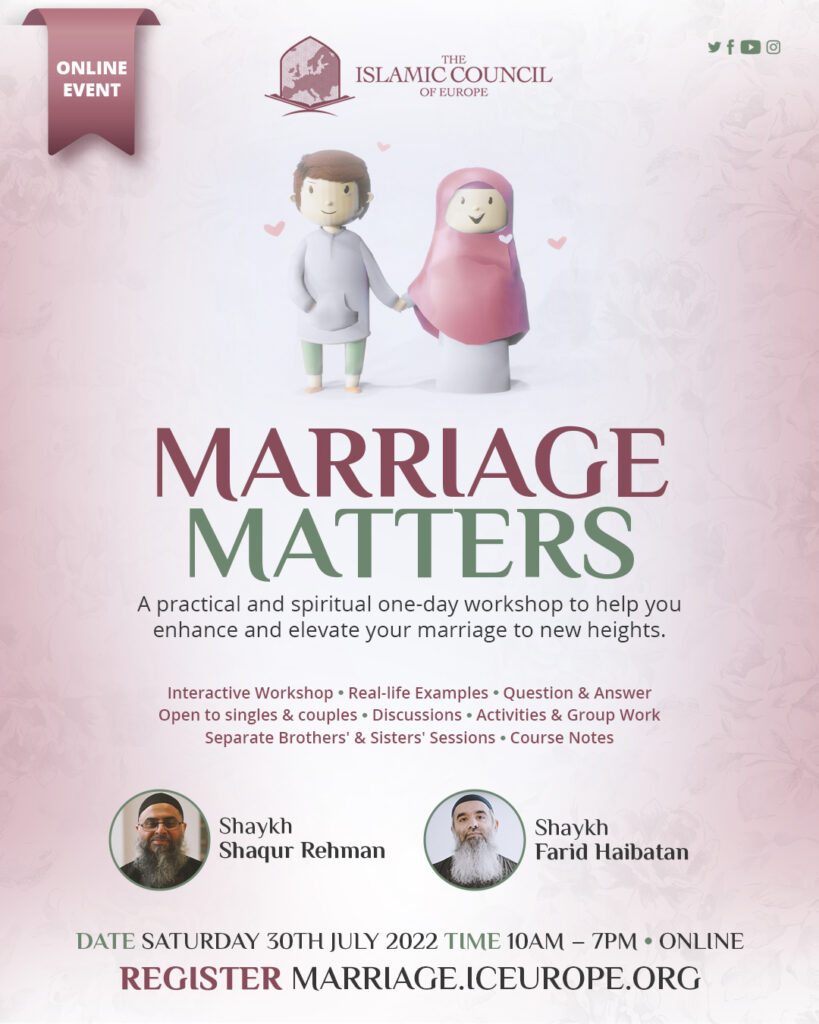 And it is Allah who has given you spouses from amongst yourselves and through them He has given you children and grandchildren and provided you with good things. How can they believe in falsehood and deny Allah's blessings?…
[An-Nahl: 72]
Is your marriage the one you had dreamt of?
Do you want to unlock the secrets of being a good spouse?
Do you want to make your love flourish?
Engage, Explore, Explain, Elaborate and Evaluate…
Open to both singles and married couples, this workshop is not the usual "rights and responsibilities" course, rather it will help you enhance and elevate your marriage to new heights, Allah willing, through practical steps to improve marital behaviour between spouses, delivered by experts who deal with marriage cases on a daily basis.
The bedrock for a healthy and functional society lies in the integrity of the family unit, which is primarily dependent on a successful relationship between husband and wife. At the Islamic Council of Europe, the majority of work we engage in deals with marriage breakdowns.
A staggering 42% of marriages end in divorce, thus it is essential for the community to comprehend the framework of a successful marriage and learn how to apply that framework in daily life.
The vision of marriage, and how it impacts marital behaviour
Navigate your path to success through real-life examples
Guidelines within the Islamic framework that are easy to take away and implement
Evaluate your expectations, reactions and solutions
Activities and group work
Qualified scholars
Q&A sessions
Lunch provided
Course Teachers:
Shaykh Shaqur Rehman, Senior Adviser for the Islamic Council of Europe, experienced Imam and Islamic Studies lecturer
Shaykh Farid Haibatan, Senior Adviser for the Islamic Council of Europe, senior researcher and experienced Islamic Studies lecturer
Details:
Date: Saturday, 30th July 2022
Online: Via Zoom
Timings: 10am – 6pm
Discount available for married couples